We are dedicated  to and responsible for controlling the country's radiation and nuclear activities so that they are carried out in a safe and secure manner for the population and the environment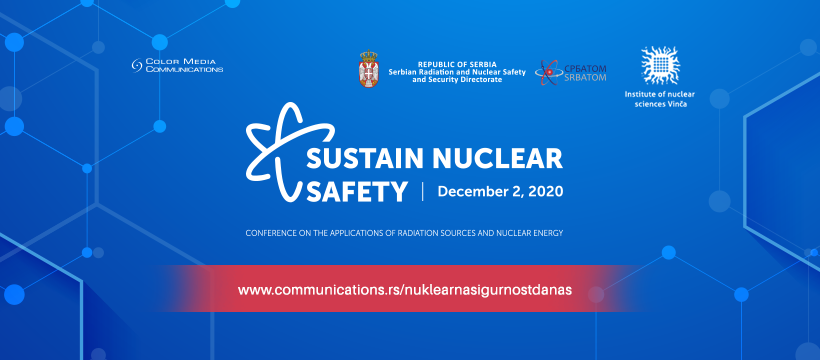 This year's conference is dedicated to the latest trends in two largest branches of nuclear technology application – medicine and energy, as well as the use of modern techniques based on ionizing radiation in studying and preserving cultural heritage. We aim at narrowing the gap between the professional circles and the public on one side, and the cutting edge achievements in the use of radiation sources and nuclear energy on the other. We also aim at presenting the current practices in the use of ionizing radiation sources in the diagnostics and treatment of different diseases ranging from COVID-19 to the gravest ones, drawing near further steps in nuclear energy development, as well as presenting the latest achievements based on ionizing radiation applied in the field of studying and preserving cultural heritage.
SUSTEAIN NUCLEAR SAFETY
Conference on the Applications of Radiation Sources and Nuclear Energy
Serbian Radiation and Nuclear Safety and Security Directorate organizes "Sustain Nuclear Safety" conference as an online event.
Title of conference: Sustain Nuclear Safety – Conference the Applications of Radiation Sources and Nuclear Energy
Date and time: 02 December 2020, 10.30 am
Location: Live stream on You Tube channel of the Directorate.
You can find detailed agenda on the following link.
You can confirm your participation in the event on the following link or by email on press@srbatom.gov.rs.
Radioactivity monitoring
Reports on the level of exposure of the population to ionizing radiation from the environment in the Republic of Serbia.

Monitor the radiation status
System of timely announcement of a radiological accident
EURDEP
European platform for the exchange of radioactivity data

MONRADRS
Monitoring of environmental radioactivity in the Republic of Serbia
Additional Protocol
Basic information about the MAAE Additional Protocol