At the invitation of the Deputy Prime Minister of Serbia, and the Minister of Mining and Energy, Zorana Mihajlovic, the Director of Serbian Radiation and Nuclear Safety and Security Directorate (SRBATOM), Sladjan Velinov attended today the launch of the Integrated National Energy and Climate Plan (INECP) for the period from 2021 to 2030, including the perspective until 2050.
The Republic of Serbia now enters on the stage in which the citizens of Serbia, expert public and all interested parties will be acquainted with the policy scenarios assessing the relevant impacts of policies and proposed measures, the aim of which is to pass the INECP in a highly transparent manner.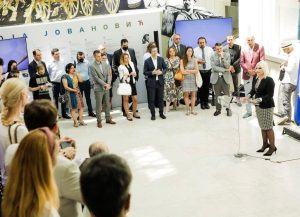 This meeting marked the onset of the public debate on the policy scenarios, that is, the process of drafting INECP, in order to add to the adequacy of the Plan passing and its latter adoption, which is planned for the end of the year and seen as important for the quality of energy sector and the achievement of the energy security in our country.
The event was also attended by the Ambassador and Head of the Delegation of European Union to the Republic of Serbia, H.E. Emanuele Giaufret and the Director of Energy Community Secretariat, Artur Lorkowski